Our Mission
Mission Statement
For the glory of God, The Bronx Church seeks to become a house of prayer of kingdom-centered disciples evangelizing Metro New York and advancing the kingdom of God globally through the:
proclamation of the Word,
passionate pure worship,
passionate Christian discipleship,
passionate purposeful fellowship,
and the passionate pursuit of prayer.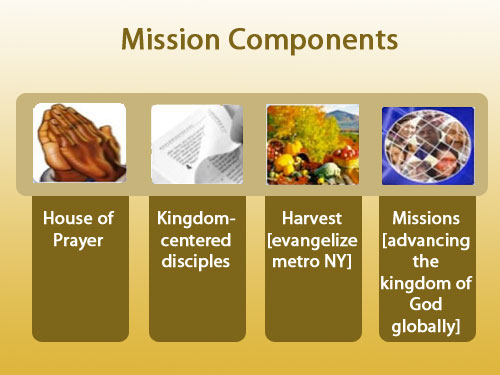 Four key statements are declared in the mission statement:
House of Prayer – Recognizing our utter lack of ability apart from His presence and power, The Bronx Church is deeply committed to prayer as a core value. We firmly believe that prayer forms the foundation of all that we do as the Body of Christ and therefore touches everything, informs all activities, and empowers all ministry and service, and encompasses our work from beginning to end.
Kingdom-centered disciples – The Bronx Church seeks to grow as a God-centered, spirit-filled fellowship of loving disciples in Christ who apply the gospel to all of life and share a total commitment to advance the kingdom of God in our community, our city, and our world. We understand that the strength of making disciples will determine our strength in evangelization. We will promote a lifelong journey of teaching/learning relationships by encouraging members to be obedient, passionate, intimate, loving disciples of Christ whose values and behaviors are spiritually transformed, resulting in ministry in their home, church, and the world.
Evangelizing Metro New York– The Bronx Church desires to be a transforming presence in the Metro area by reaching its communities with the gospel of Jesus Christ.
Ministry to the World – The Bronx Church seeks to advance the kingdom of God globally by engaging every member in mission, sharing resources for the ministry of Christ in word and deed, and sending workers to partner with other Christians in building the Church worldwide [globally].