Meet Our Pastor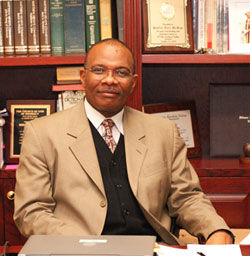 Bishop Earl W. McKay was born in Kingston, Jamaica and migrated to New York at an early age with his siblings to join their mother who resided in Bedford Stuyvesant, Brooklyn. He soon accepted the Lord Jesus Christ as his Savior and became a charter member of the newly organized Tompkins Avenue Church of God of Prophecy (now at Church Avenue), under the leadership of the late Bishop Eric Barnes.
Bishop McKay married Ella Aurora Simon in 1974 while serving as youth director of the Tompkins Ave Church and District Youth Director of the Brooklyn District. In 1975, Bishop McKay was set forth as an evangelist after attending Bible Training Institute in Cleveland, Tennessee. In 1976, he was appointed State Youth Director for New York under the leadership of State Overseer Bishop Edward L. Jones.
1n 1977, while serving as State Youth Ministries Director, he was appointed pastor of the St. Albans congregation in Queens NY, by incoming State Overseer, Bishop Barney L. Trogdon. The following year, he served a two-year term overseas as missionary pastor of the Curving Ave. Church of God of Prophecy on the island nation of Bermuda, where he also served as Executive Board member and secretary of the Bermuda Pentecostal Ministerial Fellowship. Bishop McKay was called back to the United States in 1980 to pastor the Rochester, NY Church of God of Prophecy, and was also appointed District Overseer of the Churches of Western New York. In 1982, he was appointed as pastor for the State Headquarters church in Albany, New York and served also as Business Manager for Camp Wildwood, the State Youth Camp program, and as State Winter Retreat Director.
1n 1985 Bishop McKay was appointed to pastor the Jerusalem Ave. church in Hempstead Long Island, and served also as District Overseer for the churches of the Long Island District. Read More